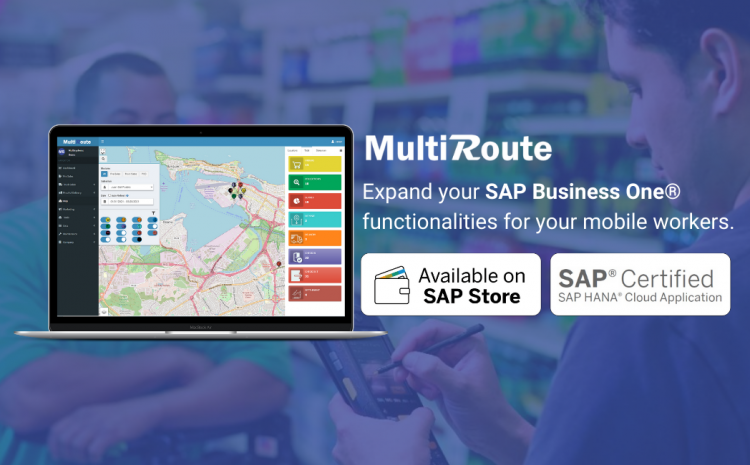 By integrating with SAP Business One®, the MultiRoute solution delivers mobile sales force automation, direct store delivery, eCommerce, and proof of delivery to customers.
San Juan, PR —8/25/2021 —MultiSystems, Inc. today announced that its MultiRoute Sales Force Automation solution is now available on SAP® Store, the online marketplace for SAP and partner offerings. It integrates with SAP Business One® and delivers mobile sales force automation, eCommerce, direct store delivery, and proof of delivery capabilities to customers.
"Offering our solution on SAP Store will help us reach new markets in a world that is more connected than ever," said Juan Gabriel del Mazo, Business Development Manager, MultiSystems, Inc. "With our SAP-certified solution, we are ready for a swift integration with SAP Business One installations. With our API Tool Kit, customers and partners can develop their own connectors. Using MultiRoute, our current customer base can maximize efficiency, increase customer service, and reduce costs. Now, the same benefits are available to any business that implements it, no matter where they are."
MultiRoute Sales Force Automation is currently being used by many sectors in the wholesale and distribution industry. The solution is used by food and beverage businesses, including fast food restaurants, bakeries, and coffee producers. The solution can also help businesses that produce car parts and furniture, and industries including healthcare, and more. MultiRoute is adaptable to most businesses and their objectives. MultiRoute stands out from similar apps because it's an all-in-one application that works for:
Pre-sales
Direct store delivery (DSD)
Merchandisers
Proof of delivery (POD)
eCommerce
In addition, MultiRoute offers a wide variety of tools such as dashboards, surveys, promotions, document management, messaging, quota and performance view, order guides, automated emails, route planning/tracking with map plotting, a route scheduler and more. It helps managers understand their operations and users to be more productive and organized.
SAP Store, found at store.sap.com, delivers a simplified and connected digital customer experience for finding, trying, buying and renewing more than 1,800 solutions from SAP and its partners. There, customers can find the SAP solutions and SAP-validated solutions they need to grow their business. And for each purchase made through SAP Store, SAP will plant a tree.
MultiSystems, Inc. is a partner in the SAP PartnerEdge® program. As such, it is empowered to build, market and sell software applications that supplement and build on SAP software and technology. Build on SAP Business Technology Platform and integrated with SAP Business One, MultiRoute fuels customers to become intelligent enterprises. The SAP PartnerEdge program provides the enablement tools, benefits and support to facilitate building high-quality, disruptive applications focused on specific business needs – quickly and cost-effectively. The program provides access to all relevant SAP technologies in one simple framework under a single, global contract.
About MultiSystems, Inc.
MultiSystems, Inc. is a leading provider of supply chain automation, enterprise mobility and plant floor solutions, based on performance and productivity improvement and centered on actual and future needs. With over 35 years of experience, MultiSystems integrates today's best automatic identification and data collection technology for process optimization – including thermal printing, mobile computers, advanced data capture, on-line inspection, packaging automation, wireless networks, RFID, access control, security and much more – backing them with the implementation and support services that are only available from an experienced industry leader.
# # #
MULTISYSTEMS, MultiRoute and the MultiSystems Logos are registered trademarks.
Any statements in this release that are not historical facts are forward-looking statements as defined in the U.S. Private Securities Litigation Reform Act of 1995. All forward-looking statements are subject to various risks and uncertainties described in SAP's filings with the U.S. Securities and Exchange Commission, including its most recent annual report on Form 20-F, that could cause actual results to differ materially from expectations. SAP cautions readers not to place undue reliance on these forward-looking statements which SAP has no obligation to update and which speak only as of their dates.
SAP and other SAP products and services mentioned herein as well as their respective logos are trademarks or registered trademarks of SAP SE in Germany and other countries. Please see https://www.sap.com/copyright for additional trademark information and notices. All other product and service names mentioned are the trademarks of their respective companies.