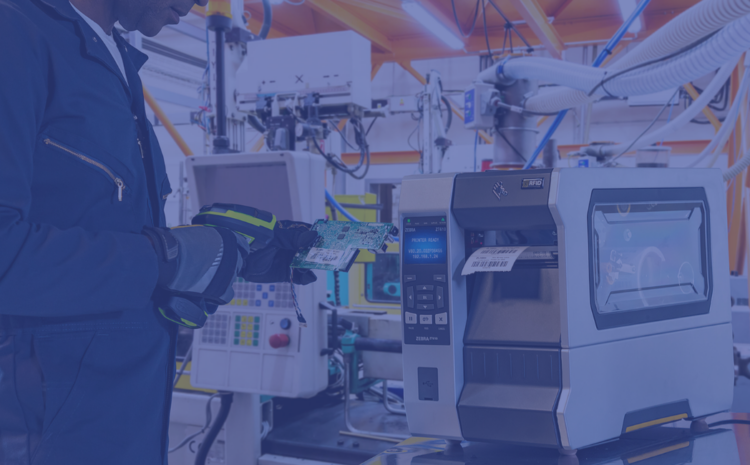 Direct thermal or thermal transfer barcode printers are best when you need any of the following:
Point-of-Application System
Point of application means the printer is located where the label is applied. By printing labels where needed and when needed (on demand), thermal printers can increase productivity. Point-of-application printing is related to distributed printing, whereby printers are placed at various points throughout a facility. Thermal printers are smaller, simpler, more durable, and less expensive than laser or dot matrix printers, making them ideal for distributed printing.
Variable Data
Thermal printers are ideal for applications that require individual or batch labels with variable data fields that change frequently. In such cases, thermal printers promote efficient and flexible label production with virtually no label waste, enabling users to print only what they need when they need it.
Varying Label Sizes
Thermal printers are ideal for labeling applications requiring varying label widths and / or lengths because they adapt easily to a variety of label sizes. In fact, on thermal printers with wide print widths, labels of assorted sizes can be printed at once. Laser and dot matrix printers cannot make such claims because the variety of label materials and sizes in sheet or pin-feed format is limited.
Graphics and Scalable Text Font Sizes
Thermal printers can cleanly print any graphic image, including logos. Additionally, text fonts are "scalable," meaning that they can be adjusted to any point size requirement. Bitmap fonts, by comparison, are only adjustable to a limited number of point sizes (e.g., 8, 10, 12, 14, 16 or 18 points). Dot matrix printer software does not allow such flexibility.
High-Definition Barcodes
Thermal printing is ideal where high-definition barcodes are required. Barcodes printed on direct thermal printers including complex, 2D barcodes offer the highest first-time scan rates of any printing technology, reducing errors and increasing productivity.
Compact Printers
Thermal printers are clean and quiet. They are also more compact than dot matrix, ink jet or laser printers. Thermal printers come in three basic varieties: tabletop, desktop and mobile. Tabletop thermal printers are bigger than desktop thermal printers, primarily because of their ability to hold a full 8-inch (203 mm) roll of media compared to the 3- to 5-inch (76 to 127 mm) roll capacity of a standard desktop printer. Mobile printers are the smallest because they are designed for portability, often hanging from a shoulder strap or belt clip.
Even tabletop printers that are comparable in size to some laser printers usually are designed to have a smaller "footprint" (i.e., the amount of flat surface area that is consumed). Desktop printers have a footprint about the size of an office phone or mouse pad. Only thermal printing technology offers the compact portability of mobile printers.
Low Operating Costs
Thermal printers tend to have a higher initial cost, but a lower maintenance cost compared to other print technologies, resulting in a lower cost of ownership. Lower long-term maintenance costs can quickly offset the higher initial investment.
Selecting the Right Printer
Selecting the right printer is not as intimidating as it first appears. By describing the barcoding functions in specific terms and answering a few simple questions, users can narrow their printer choices considerably. The primary questions to ask are:
What are the intended uses of the barcode labels?
Where will the printers be located?
In what kind of environment will the printers operate (temperature fluctuation, vibration, high humidity, exposure to chemicals, etc.)?
What are the anticipated duty cycles for the printers?
Are there any minimum speed requirements?
What are the dimensions of the labels to be used?
How frequently do label specifications change?
What kind of environments will the labels be exposed to (temperature fluctuation, abrasion, high humidity, exposure to chemicals, etc.)?
Will the printers be connected to a network or to stand-alone terminals?
What is the budget for the project?
Other performance variables include the following:
Printer Durability
What sort of environmental conditions will the printer encounter? Some Zebra printers, for example, are specifically designed for harsh industrial environments and have sealed cabinetry to prevent dust from interfering with operations. Rugged desktop printers may be ideal for light industry, commercial applications, and office use.
Print Volume
What is your daily label output? Zebra's high-performance Xi series printers are designed to operate continuously, during peak print cycles or nonstop for 24-hour cycles. Other models are better suited for lower volume, intermittent printing. Print speed is also a factor in meeting print volume requirements.
Print Speed
Print speed is an important consideration if you require a high volume of labels to be printed daily or during peak cycles. Print speed is an element of "throughput," which is the time lapsed between receipt of the print command and completion of the printing process. Throughput depends not only on printing time but also on label formatting time (i.e., the time required to convert the program and data to an image on the label). Depending on the complexity of the label format and the printer's ability to process this information in an efficient manner, label-formatting time can sometimes cause significant print delays, affecting a printer's overall print speed capability. Such delays can be costly in productivity if they occur in a production environment where time and on-demand print capability are of the essence.
Label Image Durability
Thermal transfer is the only solution if crisp, long-lasting images are required to last for several years. Direct thermal printers, in comparison, are ideal for short-term applications where the label is only required to last for a limited amount of time — from one week to one year. Direct thermal is not as durable as thermal transfer, especially when exposed to direct sunlight or chemicals. Direct thermal paper varieties are also somewhat more limited than those available for thermal transfer printers.
Print Resolution
Depending on your application, higher resolution (measured in dots per inch or dpi) may be required to facilitate the printing of text and barcodes on very small labels, such as those commonly used in the electronics or pharmaceutical industries for component or specimen labeling. Higher print resolutions provide crisp, detailed printing of much information in small spaces, without impairing scanner readability. While many Zebra printers have 203 dpi resolution — adequate for most normal applications — other models offer 300 dpi and even 600 dpi for high resolution in applications where limited label real estate exists or where high-resolution text and graphics are needed.
Print Width
Another factor in choosing a printer is determining the widest label you need to print. Zebra thermal printers, for example, offer an assortment of maximum print widths ranging from 2″ (on mobile and some desktop printers) to 8.5″ (for printing 8.5″ x 11″ packing slips and invoices faster and less expensive than laser printing). If your application demands large labels (e.g., shipping labels, multi-part invoices, or labels on large products and packages, chemical drums, or pallet wrap) you need to choose a wide-label printer with a print width of 6″ or more.
Even if the application does not require large labels, sometimes a wide-label printer can still be advantageous. For example, while a 4″-wide printer can print the common 6″ x 4″ compliance label format, it must rotate the information and print it lengthwise (4″W x 6″L). A 6″-wide printer can print the same label laterally (the wide way) as 6″W x 4″L.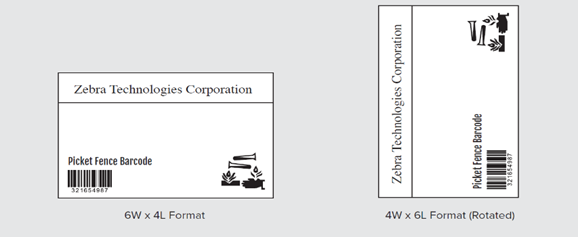 In the 4″W x 6″L format, the barcode is shown in a rotated, "ladder" style format. The 6″W x 4″L barcode format is shown in a normal, "picket fence" style. It is more difficult for most printers to print rotated barcodes; rotated labels have to print more slowly to achieve the same barcode print quality. Zebra's patented E3 Element Energy Equalizer printhead technology ensures that the correct amount of heat is delivered to each part of a printhead at all print speeds, optimizing the quality of the barcodes that are produced in either orientation. A 6″-wide printer completes a 6″W x 4″L label three times faster than a 4″-wide printer and produces 50 percent more labels from a single media roll — saving media costs and stretching the time between media changes.
Wide-label printers can also multi-task with "multiple up" printing. Using a single printer configured to print multiple formats, for example, an assembly station can print on demand all the component labels it needs for each assembly. Similarly, wide-label printers allow "multiple cut" printing that is valuable for batch printing; a 6″-wide printer can print six 1″ die-cut labels across simultaneously.
Printer Feature Options
Additional factors to consider when purchasing a particular thermal printer are its available options. These options may include:
Different print modes: label cutter, peel, liner take-up, tear, rewind, etc.
Real-time clock for printing the time and expiration date.
Advance counter for alerting users when it is time to change media, perform preventive maintenance, etc.
Communication options: parallel, serial, USB, Bluetooth®, wired or wireless Ethernet, twin ax or coax cables, etc.
Memory options: PCMCIA / Flash memory, upgradeable DRAM.
Font options: Scalable vs. bitmap, non-Roman Asian font sets for international characters such as Chinese and Japanese, TrueType fonts, etc.
Any of these options can help the printer meet application needs more closely and enhance the operator's productivity. The peel mode option, for example, can facilitate quicker label application. In peel mode, the printer separates the label from its liner backing, so rather than removing it manually, the user can simply take the label and affix it. Such timesaving options greatly facilitate label output and, in some cases, even improve worker morale.
When a proper balance is reached between printer performance and application, the printer becomes a more natural extension of the operator. The resulting higher efficiency can add to the organization's overall productivity and bottom line.

This blog was contributed by Zebra Technologies.