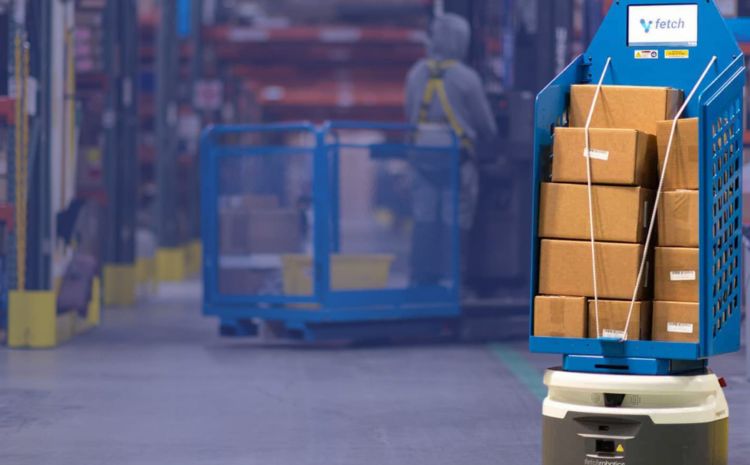 Many manufacturers are blaming labor shortages for production delays or capacity reduction, and fast-moving consumer goods (FMCG) companies will probably be claiming the same shortfalls very soon, if they aren't already. The food and beverage sector was one of the 15 manufacturing industries that reported growth in December, which isn't surprising considering that everyone has to eat to live and the population is growing by over 200,000 people per day. However, the food and beverage manufacturing segment was also one of five that reported a decline in employment levels in December.
If there aren't enough people on your payroll to meet production or fulfillment demand, what do you do? Logically, you try to hire more people. But when you fall short of headcount targets, then you must automate where you can to make up the difference in output capability.
Naturally, most manufacturers look to automate the production line first. In fact, that may be the only place they look to automate. That's why too many operations managers and company leaders are still spending every waking hour – and losing sleep – combing through reports to understand why there's a downturn in production output or inventory throughput (depending on their function).
The reality is that the answer isn't in a report; it's right in front of you, on the plant or warehouse floor.
Are you Automating in all the Right Places and in All the Right Ways? (Yes, those Words are Plural.)
Production and processing line automation is necessary. But it's not the end-all, be-all. Nor is it "the solution" to anything that plagues food and beverage manufacturers and distributors today. It's just one component of the solution.
If you automate lines, but people are shouldering all the responsibility of your operation – if workers are the ones who must ensure raw materials make it to the production line on time, for example – then your return on investment (ROI) for automation technology is going to disappoint.
Your dock-to-stock metrics for raw materials, consumer packaged goods (CPG) or processed inventory matter as much to output capabilities as your production, picking, packing, and shipping metrics. Arguably, they matter more. Unless inbound logistics teams are working as fast – or faster – than manufacturing lines are moving, production or processing will stop until raw materials can be unloaded and moved to lines. Likewise, you could have a perfect production operation running with plenty of on-hand inventory to fill every order on time, in full. But if you have an imbalance between customer demand and maximum labor output, your stock levels will rise and customers' shelf stock will shrink, even as production continues. Orders just won't get out the door on time because fulfillment teams will constantly be playing catch up. If the tides are coming in but people aren't getting taller (or, in this case, working faster), you'll all be underwater quickly.
In other words, you're going to have bottlenecks to contend with and shortcomings to explain if you're only relying on fixed automation systems to "automate" your operations. Everything that happens up to the point of the production and after items come off the line is still going to be slow-going. People can only move so fast and so far each day.
In fact, that's why I don't like to lean on "labor shortages" as the business case for autonomous mobile robots (AMRs), or at least not the only business case.
Call for Flexibility are Mounting. Where Do You Stand?
As a food and beverage manufacturer, your products are going to forever be in demand. You may have to diversify your product lineup as palates, price tolerances and other consumer preferences change, but people will always need to eat and drink. That means you will always need to rush to get food and beverage products out the door as fast as possible. There is no such thing as peak season. "Peak" is the norm, with order volumes remaining stable (i.e., constantly growing) as demand cycles for certain specialty products or seasonal flavors. The variables that will change are labor, required lead times, fulfillment models and shipping distances – all things that could be disruptive to your time-sensitive operations.
The key to combatting such disruption is agility, and that requires flexibility – specifically, flexibility in how and where you automate operations.
Whether you're trying to get meat, marshmallows or margarita mixes out the door on time, you need to be smart about where you position people and what you have them doing. They should not be running inventory or work-in-process (WIP) from one place to the next for any reason. AMRs should be doing that. People should not be trying to navigate your warehouse aisles alone, either. AMRs can escort them, pointing out the shelf where an item needs to be picked or put away.
This blog post was provided by Zebra Technologies, written by John Wirthlin, Zebra's Industry Principal for Manufacturing, Transportation, and Logistics.