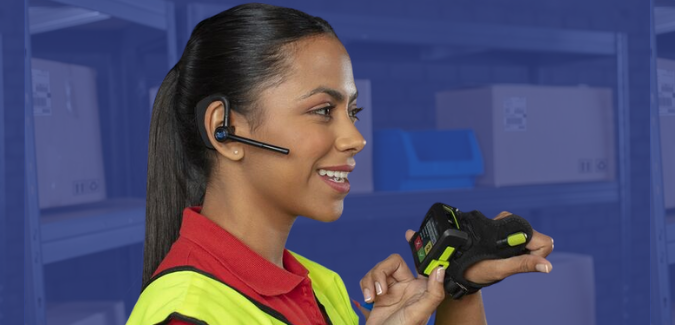 BEYOND THE FACT THAT THE ZEBRA WS50 IS THE FIRST RUGGED, ENTERPRISE-CLASS DEVICE OF ITS KIND.
It has been 25 years since Zebra introduced its first wearable for warehouse workers, and here we are again marking another milestone with the world's first, "no host," all-in-one wearable enterprise Android™ mobile computer: the Zebra WS50.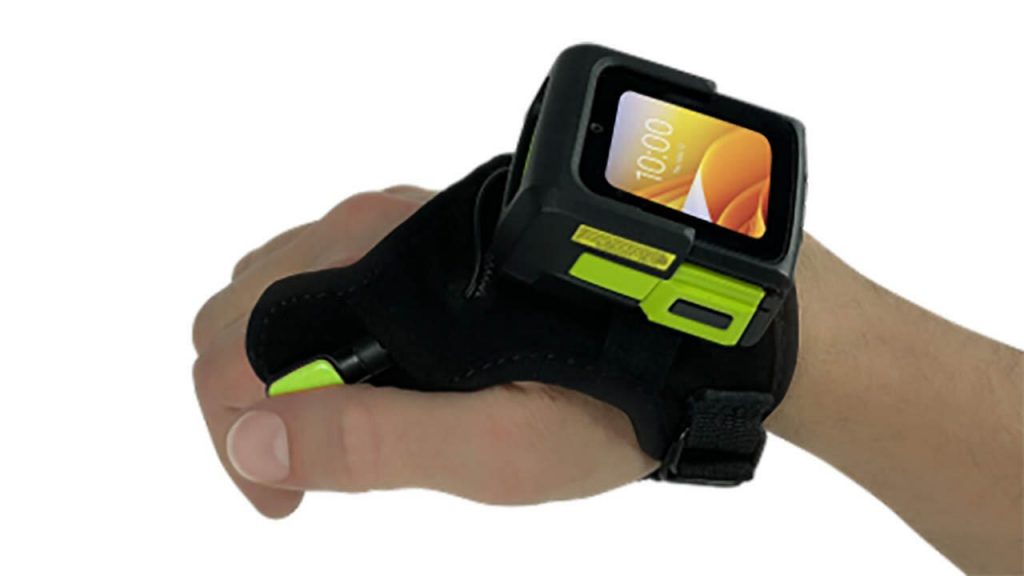 Now, when you look at that photo for the first time, you might say "it looks like a smartwatch." But this is no watch. The Zebra WS50 is the most intelligent and fully featured rugged wearable computer (and imager…and task manager) on the market today.
Seriously, there is nothing else like it. That's because it was built using one of the most unique component combinations of any enterprise device to date:
The Qualcomm® Snapdragon Wear™ 4100 Platform / SDW429w, quad-core, 2.0 GHZ. (The Zebra WS50 is the first enterprise device to feature this powerful computing core!)
An embedded microphone and speaker. (You'll also have the option to use a Bluetooth-connected headset in noisy warehouse and manufacturing environments).
A bright AMOLED color display that's optically bonded to the capacitive Corning® Gorilla® Glass touch panel. (It supports finger and glove touch and has a wider range of viewing angles than other wearables, making it easy to read and input detailed information on a two-inch screen.)
A removable hot-swappable battery, (This is a key feature in enterprise wearables to protect against critical data loss).
Prog

rammable buttons on the wearable. (This allows for customization of key presses based upon application requirements: enter, next, navigation, push-to-talk, photo capture, etc.)
The Zebra Mobility DNA suite. (Key tools to assist in deploying and supporting the WS50 include StageNow, Mobility Extensions, DataWedge and Enterprise Home Screen.)
You'll also be able to choose from two different data capture configurations with the WS50. With the "converged" version, Zebra's enterprise-class SE4770 1D/2D scan engine is integrated into both the two-finger and back-of-hand mounts to make intense barcode scanning a breeze. Alternatively, you can opt for a high resolution 13 MP camera in the wrist mount, which is perfect for capturing detailed photos and the occasional barcode.
Something else that makes the "no-host" WS50 wearable mobile computer so special is its modular design: it can be worn on a wrist, two fingers, or the back of the hand. And no matter which style workers choose, they'll be able to capture and access data, scan barcoded items, make push-to-talk (PTT) calls, leave and receive voice memos, take photos and so much more. This one device does it all!
Actually, I should say this one wearable mobility solution does it all.
WHAT – AND WHO – IS ENABLING WORKERS TO "DO IT ALL" USING JUST A WEARABLE
The WS50 transforms into an enterprise-ready solution with the integration of software-delivered intelligence. So, Zebra has been collaborating with several Independent Software Vendors (ISV) the last few months to validate their applications and help ensure the WS50 will be able to solve many of the problems facing your business today and in the future:
That means your workers could put on a WS50 and, within minutes, know exactly what they need to do to effectively price and mark down retail items, pull or put away inventory, load or unload trucks, and sort inbound goods to prep for further distribution. For workers in manufacturing, the WS50 supports rapid replenishment of assembly materials, inspection of finished goods, and alerts for equipment maintenance. Or, if you're in the hospitality business, your servers can get alerted when a customer places an order – or when orders are ready – so fast action is taken to get food on tables or out the door. Honestly, the WS50 would even be a great wearable for room service teams that need to ensure food orders make it to guests' doors in a timely manner. I could also see housekeeping and janitorial teams wearing this rugged enterprise mobile computer to monitor guest check ins and check outs – and the rooms that need servicing – or to report completion of routine sanitation tasks.
The use cases are endless with a device this small, lightweight, durable, and connected, especially when you consider its versatility as an Android computer, high-power imager, and high-quality camera. (And the fact that the user interfaces of some of your most commonly used applications are being adapted to the two-inch screen by our developer/ISV community.)
A worker in any industry could use the PTT or voice memo features to reach colleagues or supervisors when they have questions about how to complete tasks or handle situations. And they probably won't need to call for assistance considering they will be able to receive task lists and guided instructions on the screen automatically. You can program both the hardware and software to match the worker's role, typical workflow requirements, or both.
For example, a loading dock quality inspector can simply scroll to the "take photo" icon on the screen to capture an image showing item damage. They can then use the scan button to associate the barcode on the item with that photo before sending to a colleague in real time for further action. Or a housekeeper could take a photo of damage in a room after a guest checks out to aid with financial recuperation or show the maintenance team what repairs are required so they can come up to the room properly equipped for fast turnover.
Watch this:
WHY "CONVERGED SCAN" IS GAME CHANGING
Right now, millions of workers are speeding through their day and scanning countless items with the help of wearable terminals worn on the wrist or hip and barcode scanners worn on the hand. But when you think about how typical wearables work, you'll see there's room for improvement in terms of speed and simplicity. The WS50 is that improvement – eliminating the need for a separate host terminal and wearable scanner by "converging" these two functions into a single, ergonomic wearable device. This all-in-one solution reduces the time it takes to transition between data capture, task management, PTT, and other mobile computer-based actions. Everything happens in one fell swoop (or swipe).
But that's not the only reason why it may be smart to upgrade your workers to a WS50 as soon as possible – or give every mobile worker a WS50, even if they still want a handheld mobile computer or rugged tablet for certain tasks.
If they are in scan-intensive roles, having a device that can capture data and provide instant feedback on the 2-inch display can make a big difference in productivity. They can just point, click, view the on-screen instructions in their line of sight, and move on. With the WS50, they can scan barcodes even if the items are in motion, and they don't even have to depress the trigger or individually scan every barcode. It can scan continuously thanks to an optional integrated proximity sensor and capture multiple barcodes at once, literally in a split second. Just as quickly, the Zebra Multi-Code Data Formatting software on the WS50 will properly format and transmit the data to the designated information system.
Can your wearable scanner do that today…without the help of a second host computer?
I could write another 1,000 words on why the WS50 just set a new bar in the enterprise wearables category, from the design to the applications and even the streamlined security and management tools included with the solution. But it may just be easier for you to check out the webpage.
Better yet, let's set up some time for you to put it on and see it in action in your environment. Walk a day in your workers' shoes, wearing the WS50 on your wrist, finger or back of hand. I think the experience – and the business benefits it provides – will speak for itself.
Dan Baldwin